The 123GOLD configurator
Design your own personalized wedding or engagement rings.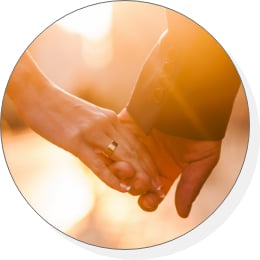 Your love is our passion. Your personal wishes and ideas for your jewelry are our focus. With our infinite design possibilities, your dream rings will become a reality.
Configure now
As the inventor of the first wedding ring configurator, we have revolutionized the wedding and jewelry industry in Germany. With more than 20 years of experience, we offer endless design possibilities for your personal wedding rings.

Through our wedding ring configurator, we can visualize them in the best possible way and immediately provide a transparent price calculation. We will not only design the most individual rings together with you and manufacture them in the most renowned factories in Germany, but also deliver them to you at the most attractive price!

We wish you lots of fun designing your personal rings.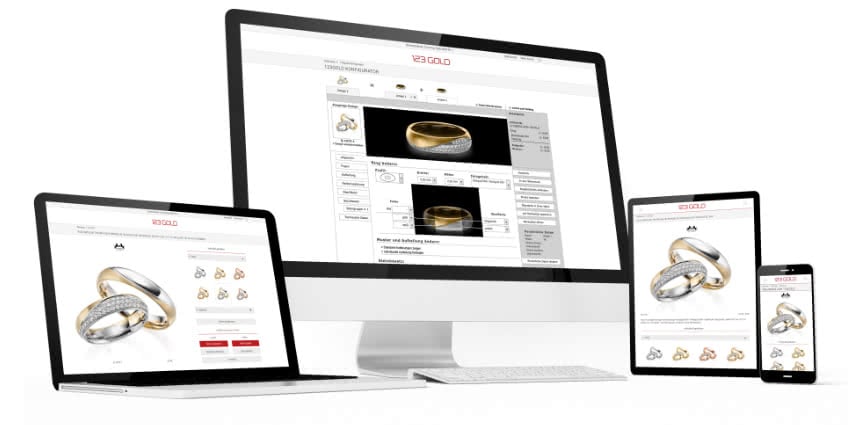 Your personal wedding rings in just a few steps
01 - Shape and ring profile
The profile describes the basic shape of the ring in cross-section. The configurator offers countless design possibilities.
The spectrum ranges from curved, rounded and concave to angular and square.








Width and height have a decisive influence on the wearing comfort and stability of a ring.
Thanks to the fine gradation possibilities, every hand and finger shape can be adjusted.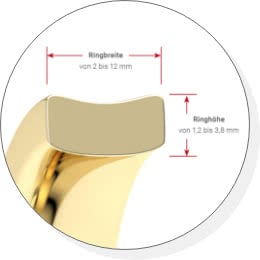 Sample rings are made in silver for you in advance and correspond to your rings in terms of shape, width, height and ring size.
In daily life, you can try them on and be absolutely sure that you will get your dream ring when you place your order.
Using allocations you can create
multi-colored rings
in a sophisticated design.
You can move the divisions around freely, or you can use the
the division proportions stored in the configurator.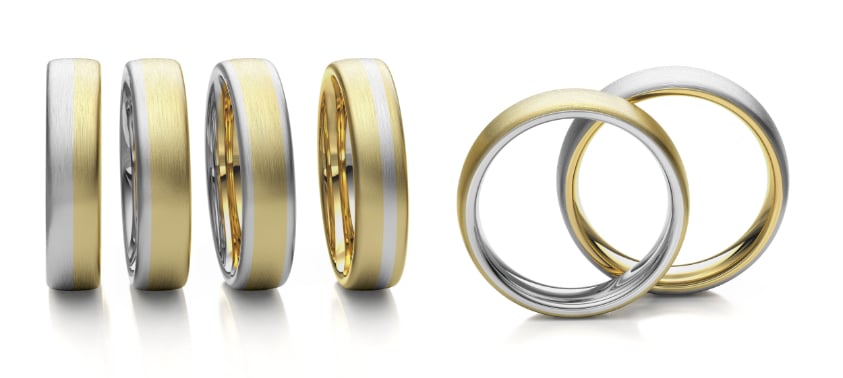 Grooves and divisions are popular design features and design elements of individually configured wedding rings.
With multi-color divisions, they serve to cleanly and visually separate materials of different colors. Materials
cleanly and visually separate from each other.








Precious metals come in different colors and shades, depending on the
alloy
.
Combine them to create extraordinary designs that harmonize with your skin tone
and your personal preferences.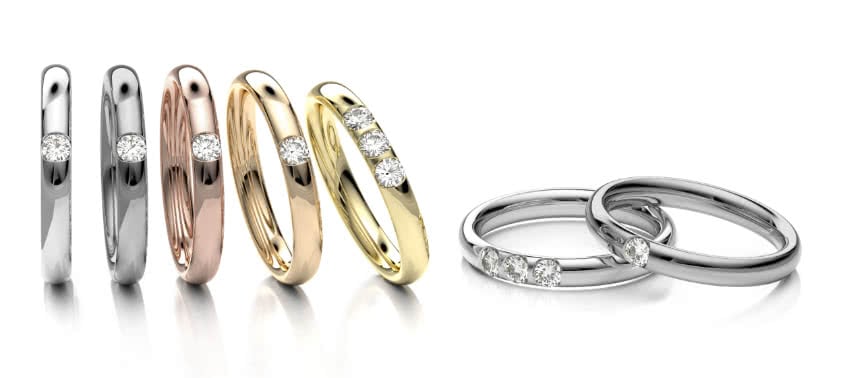 The type of the
Finishes
determines the individual character of your rings.
Depending on the brand and collection, you have the choice between a polished finish
and different types of matting.
Split rings also allow to combine the finishes.








The diamond
gives every piece of jewelry something special and has a fascination that almost no one can resist.
As a specialist in wedding rings and diamonds, 123GOLD offers only the finest stones of
the best quality and a unique selection of cuts and colored diamonds.

The type of setting determines the appearance of a stone.
Floating in a tensioned setting, rubbed into the ring and thus fused with the ring band
Or modern as a channel setting.
The design possibilities with our configurator are diverse and ont.







Lateral brilliant crown settings with bars

The engraving
turns your ring into a time document of your partnership. It is a unique specimen of your love.
You are free to choose whether you want your ring engraved on the outside or inside, with a predetermined font, with your individual handwriting, your personal love message or your partner's fingerprint.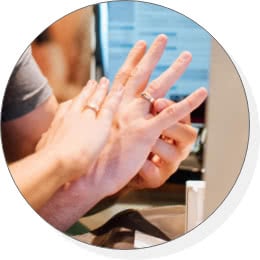 Not all ring sizes are the same!
Depending on the shape and width of the ring, the feeling varies. When measuring, it is also important to note that the ring sizes on the right and left hand may be different. In Germany, engagement rings are usually worn on the left ring finger, while wedding rings are worn on the right ring finger. This may be different in other countries. In Switzerland, for example, the wedding ring is worn on the left ring finger.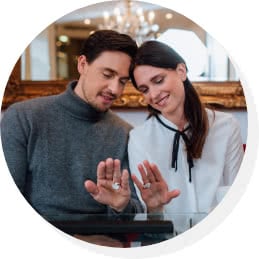 You haven't configured your matching wedding rings yet? No problem. More than 60
123GOLD partners
in Europe are waiting for you. During an on-site consultation, several samples are available to help you choose. You can also start with an existing model and modify it step by step according to your ideas.
Our advice is professional and authentic. With our variety of models, we offer a jewelry experience of a special kind. Experience the unique advice of one of our experts at a partner near you.